Travelers have been traversing Lancaster County along Route 30 for well over two centuries. And for over 70 years, a very special building has signaled their arrival in Amish Country. It has a legitimate claim to being the area's oldest visitor landmark. Most importantly, it's the "place that made shoo-fly pie famous." That iconic structure is the Dutch Haven windmill.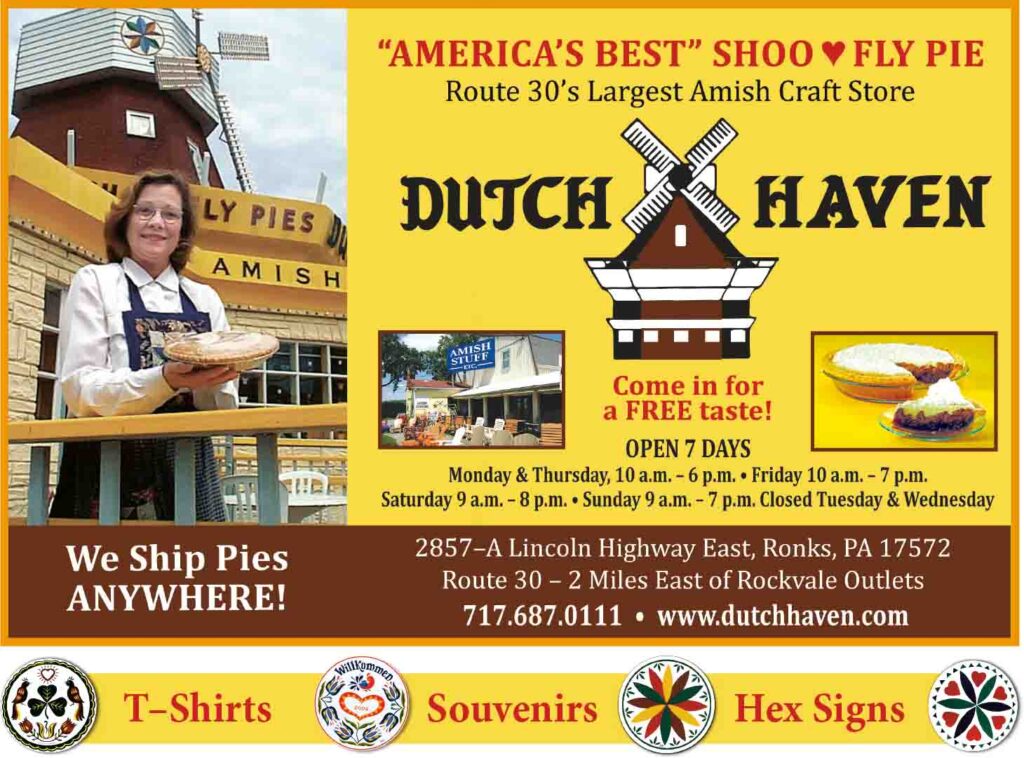 With a history dating back to the beginnings of tourism here, the building is rich in memories. From the time it started as a luncheonette in 1920 right up to the present, it has remained most famous for shoo-fly pie, served warm with whipped cream. The Dutch Haven shoo–fly pie has even been mentioned in a TIME magazine article.
Today, as soon as you walk in, you'll be offered a free sample of that same delicious, gooey pie. Some 40,000 pies are baked annually, using the original (secret) recipe. Visitors are still encouraged to "Take one for yourself or send one to someone nice." You can buy and ship pies home at the store or at their "online shop," where you'll find other local crafts as well.
Yes, Dutch Haven is much more than pies, with over 10,000 unique gift items, foods, and collectibles. Some of the most popular are jams, jellies, and canned goods, noodles, Amish pine furniture, and cedar chests, hex signs, quilted spice mats, Amish straw hats, jewelry and gemstones, Dutch Delft tiles, Amish dolls, onyx and soapstone animals, trivets, metal stars, Tiffany lamps, Amish romance novels, framed prints, plenty of T-shirts and postcards, and a tremendous selection of Amish–made outdoor furniture. It's an eclectic mix, to say the least.
As you explore, you'll discover lots of other "surprises" around every corner. Expect the unexpected! And don't forget the Amish–style root beer in the barrel.
Dutch Haven is open 5 days a week, Monday and Thursday 10 a.m.– 6 p.m., Friday 10 a.m. – 7 p.m., Saturday 9 a.m. – 8 p.m., and Sunday 9 a.m. – 7 p.m. Closed Tuesday and Wednesday. For more info about this Lancaster County landmark, call 717.687.0111.
Look forward to your free sample when you walk in under the welcoming arms of the windmill…for this truly is the place that made shoo–fly pie famous.