Welcome to the world of Aaron & Jessica's Buggy Rides. America was born in our front yard. Jessica and her family live in the oldest known standing house in Lancaster County. Come visit our farms and our Amish experience homestead with a house tour. We are THE ride that takes you to a REAL, NON-COMMERCIAL AMISH FARM. Have some homemade cookies or pretzels with us. Try our lemonade and root beer. Pass a real Amish Village and ride through an ALL Amish area. Nobody else offers you more.
View Aaron & Jessica's Spring Ad
A Personal Touch
Aaron and Jessica's family is real Pennsylvania Dutch going back to the Dutch Brethren who came to America in 1624 from the Netherlands. America was born in our front yard. Jessica and her family live in the oldest known standing house in Lancaster County.
We Absolutely Offer You More
On our tours, you can see or visit Amish quilt shops, schools, an Amish dairy, a harness shop, a buggy factory, farm stands, an Amish furniture shop, a bakery, and more!
Ride Through Our Covered Bridge for No Extra Cost
All of the buggy rides pass through our covered bridge. As Jessica always says, "We know you came here more than anything to see and understand how and why we live the way we do. Take a ride with us. Let us tell you all about it, too. After all, we live here."
The Buggy Rides depart from the covered bridge of Plain and Fancy Farm between Bird-in-Hand and Intercourse. Completely surrounded by Amish farmland, there are different scenic routes offered. Just pick your ride when you arrive. You'll see a little red-covered bridge along the side of Route 340, exactly a mile and a half from either Bird–in–Hand or Intercourse.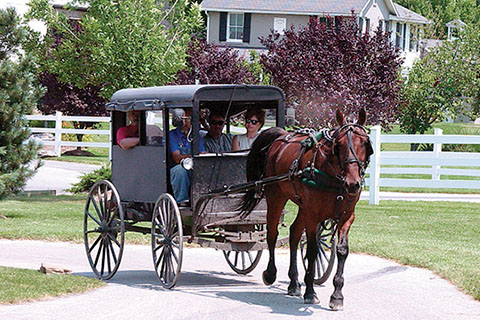 A Family Tradition That Never Disappoints
Jessica likes to stress the authentic nature of the rides. "We offer a high-quality tour with local Amish and Mennonite guides. We can take you between the house and the barn on a private working Amish farm, where no other rides are permitted. You see the real-Amish life. We absolutely offer you more. We realize you have a choice of rides and we appreciate your business!"
Jessica's dad, who for 37 years has driven thousands of visitors down Amish farm lanes over the last 35 years, was three years old when he had his first recollection of a horse. He guesses he has driven a carriage more than anyone else in Lancaster County, about 10,000 miles!
Experience the beautiful countryside of Lancaster County with its immaculately kept Amish Farms and gardens.
Have You Heard About Our Special PRIVATE RIDES?
Have you heard about our special PRIVATE RIDES? You can reserve your own Amish buggy, Horse, and Driver, for a personalized interactive, and truly unique tour of our beautiful countryside. You can stop at an Amish Farm, or Amish-owned quilt and craft shops and roadside stands for snacks. Whether it is for an anniversary gift for your loved one or a celebratory family group, we can customize one just for you. Call us at 717.723.0478 for options.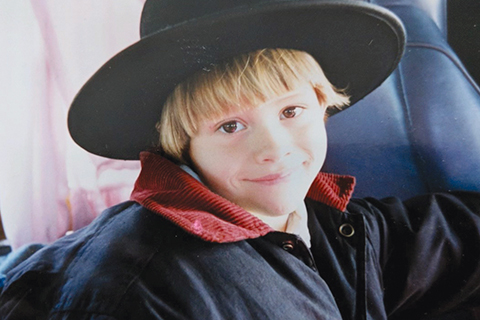 Kids Love Buggy Rides
Kids love buggy rides, especially getting to sit up front next to the drivers! As one visitor from Long Island said, "This is our fifth time here this year. We love it here. Since my son woke up this morning Aaron & Jessica's is all I've heard." So, if your kids are driving you buggy, let Aaron & Jessica take over the reins for a while!