All About Aaron
Did you know? Aaron was Jessica's first horse!?
Embrace the moment and travel the countryside in our locally made horse-drawn Amish carriages!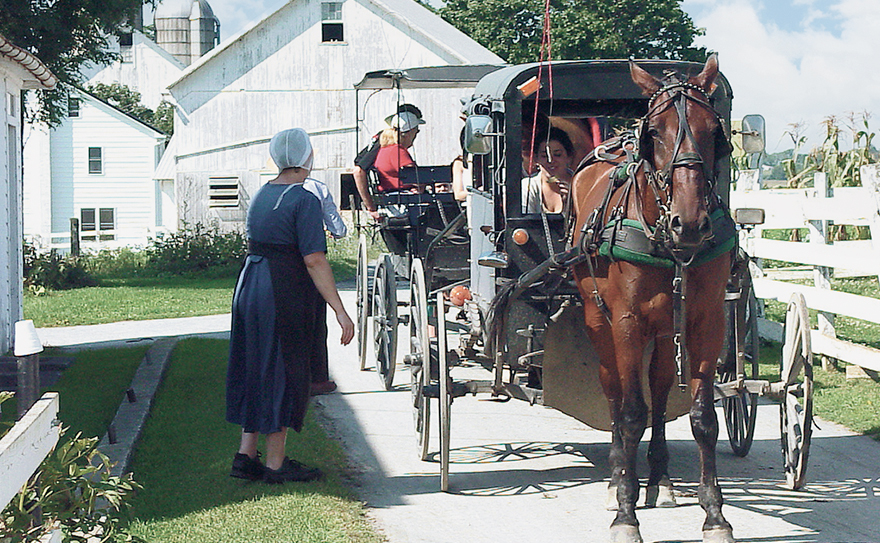 All About Jessica
Born a small-town girl, it was Jessica's dream to own a horse and carriage where she could share our lifestyle with others. She and her siblings attended a one-room schoolhouse and experienced the rigors of winter and hot summers. At the young age of 14 when her eighth-grade education ended, Jessica had the opportunity to select the interior color of her buggy, choosing which style wood dashboard she wanted, and items such as a speedometer versus hand-powered windshield wiper! YES, even 30 years ago every family custom ordered the interior design of their Amish carriage. An opportunity was presented at Plain & Fancy Farm to open a carriage business for visitors. In the next moment, Jessica found her favorite horse and named him Aaron, and soon began offering a carriage ride experience to travelers who were seeking to learn more about the Amish, Mennonites, and Old Order Brethren of Pennsylvania. Tracing our heritage back through Pennsylvania Dutch trails, to the Dutch Brethren of the Netherlands, Germany and Switzerland, Jessica and her dad had a newfound joy of telling others about our way of life.
View Aaron & Jessica's Spring Ad
Today, Jessica's family lives in one of the oldest known standing homes in Lancaster County. It's now been over 31 years that the family has maintained the passion to share the Christian faith and "reasons" for living a Plain lifestyle. Within those years, Jessica and her five siblings are now parents to a combined 15+ children! Every few years another one of the children got to start learning how to drive a horse. In Lancaster County, you will see children as young as 6 or 7 years old driving their miniature pony to town!
Just as we continue to grow and develop, our communities continue to adapt to newer technology that may be permissible to utilize within the home or at work. It is important to understand that Amish and other Plain community members do not have a specific religious belief against technology. Their faith in the New Testament teaches them to follow verses such as John 15:19, to be in the world, but not of the world. No matter the progression, the simplistic lifestyle still holds strong! On our ride you'll have the opportunity to ask questions about day-to-day life, Don't forget to ask about the electrical sources in our homes (electrical wires are still non-existent).
In Jessica's home, and in a select few of the Plain churches, children are permitted to go to school beyond eighth grade. When Jessica had the opportunity to do local farm calls with a veterinarian, she found a love of medicine and caring for our horses.
Once she obtained her vet technician degree, she worked five years in a horse operating room. She quickly discovered her true passion was caring for not just animals but humans also. Being the eldest sibling, she led by example and soon her next four siblings followed suit in pursuing healthcare degrees. Jessica's sisters remain in Lancaster County practicing nursing within the local communities.
Today, you may see Jessica or her youngest sister Miriam offering buggy rides. This is your full opportunity to learn firsthand about our childhood and the Christian beliefs that still hold true to us.
A Family Tradition That Never Disappoints
No matter the stage in life or agenda of the day, guests, locals (and even our drivers) find riding in a horse-drawn carriage to be very relaxing! Even after thousands of carriage rides, Jessica, Sarah, Rachel, Miriam, and their two brothers still love taking an evening joy ride in the carriage.
When you come to our buggy ride, every ride begins with a ride through our covered bridge!
As Jessica and Miriam continue to expand our rides, we now offer many public, private, and "themed" buggy rides. Inquire about scheduling your next special moment and create memories to last a lifetime!
---