Your "Tour Guide" in a Magazine
PLEASE NOTE: For 2023, ACN has changed printers and the size has decreased slightly. Download the PDF shown here for new ad sizes. THANK. YOU.
NO INCREASE in 2023 Rates from 2022 Pricing
Distribution in Lancaster and surrounding counties at over 300 locations with many exclusive channels including Herhsye's Chocolate World.
Full color print publication
Cover printed on glossy paper.
12 months of coverage for the price of 7 months
Regional and town maps plus Amish and Regional History
95% of our readers surveyed say they keep their ACNs and share them with friends
Regional stories and timely articles of importance to visitors
Published digitally online here
A Welcome Letter from Ed
Greetings to all our advertisers and future advertisers of Amish Country News (ACN). Coming from the Management and Business Development end of the Customer Service industry for a better part of thirty-five years and now having this opportunity serving as Director of Amish Country News, is very exciting and yet, a humbling appointment.
Wilkum, as Amish Country News was named at its first introduction back in 1989, introduced the Amish community, heritage and way of life to a small percentage of the Lancaster County population. It was a risky introduction, not only for the Amish, but for the business community at large that supported this publication early on. It was introduced to the general public in sharing the Amish philosophy and their simpler way of life as well as the businesses in the area.
Today, ACN, over 30 years young, is a well-established, full color, multi-faceted vehicle that serves as a communication publication, not only reflected in print locally, but digitally, worldwide, on the internet. The dedication and efforts to capture the essence and the unique way of life and people, that are the Amish, in a genuine and respectful way, still remains our primary goal.
ACN, now stronger than ever, is still about community and those ties that bind us all together, making us all more successful for it. Over these last three decades with Amish Country News serving this ever-growing and expanding community, I look forward to continuing that legacy with you.
In continuing this growth of community through factual storytelling and visual representation of the Amish people, coupled with the support of our established partnerships and their advertising needs, I look forward to welcoming new partnerships, as they emerge, nurturing and fostering every relationship in a positive direction. In doing so we will continue to grow and prosper every day, because of people like you.
Thank you for being a part of this journey! From all of us at "Amish Country News", we welcome you to come on board and become a new partner in our community.
— Edward Blanchette, Director of ACN & Business Development
2023 Ad Sizes and Pricing
Amish Country News is printed seven times annually with a guaranteed print run of 290,000 copies per year, distributing them more accurately and in such an impactful way to make sure that visitors to Amish Country News will pick up the magazine and see your business at the same time, giving you, our valued client, a better value. PLEASE NOTE THAT DUE TO PRINTING, AMISH COUNTRY NEWS is slightly smaller and has adjusted ad sizing. See the grid below.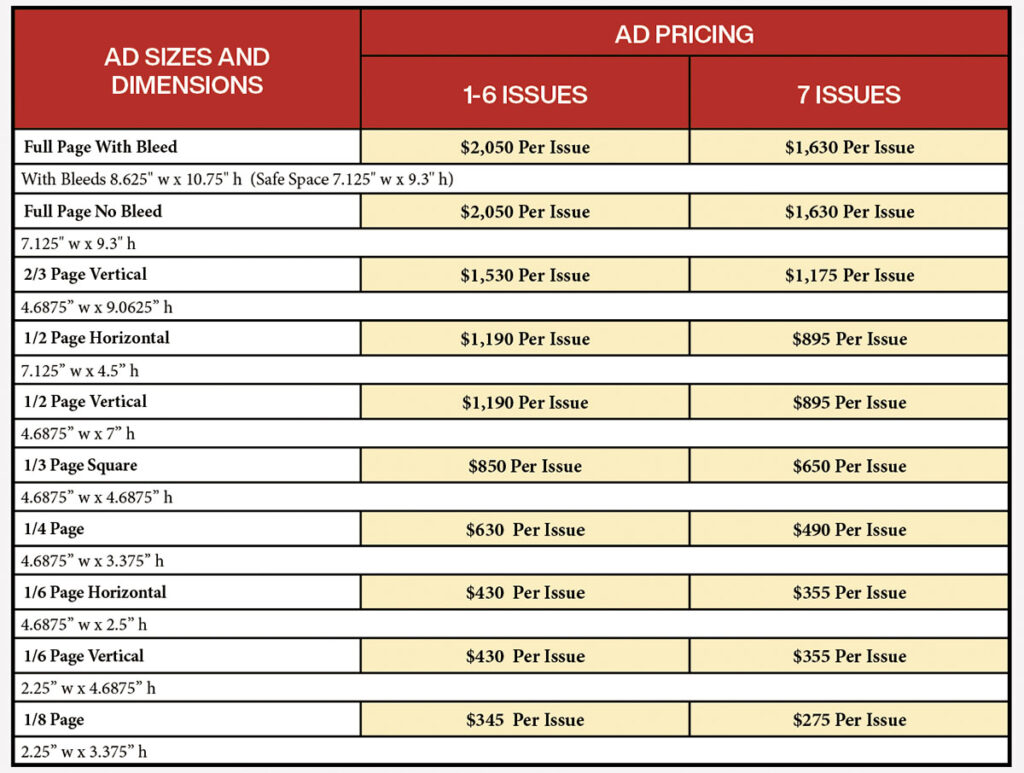 Get in the Picture…On Our Cover
You are the first thing they'll see on the cover of Amish Country News! Cover package includes: Cover design, 2 Full Inside Pages (Pages 4 & 5), Editorial Assistance, and Graphic Design Service. Call Edward Blanchette at (717) 344-0871 or email [email protected] for more details.
You're Our Business Partner
We Make Your Business Look Good
If you need help creating your ad, don't worry, it's included COMPLIMENTARY! Here's an example of a rough draft and the finished result – one of the many we create each issue!
We Focus On When the Tourists ARE Here
By printing only seven times a year, our advertisers get maximum exposure and save money. We also combine months for the Spring (March-May) and the Holidays (November-February) with AMPLE SUPPLY to cover the time on the newsstands. You pay for 7 months and get coverage for a whole year!
We Are Flexible For You
Change your featured photography, ad copy, coupon offer, or ad size from issue to issue with your Sales Cycle – just be sure to tell us by the first of the previous print month.
Free Bonus Advertorial
Don't Just Sell Them…Tell Them
Our readers will be sold when they learn more about you. All 7x advertisers receive a free bonus editorial in at least one issue.
Many years ago several of our advertisers noted that an article about them brought in more business. Credibility increases because someone else is talking about your business. It's like the phantom dining critic, except when we write about you it will always be positive!
People respond to people. So in most editorials and cover stories, we like to focus on the people behind the business. We'll ask what got you interested in doing what you do. Usually, when people talk about their business, the excitement rubs off.
One article about the charity work done by a local teddy bear shop resulted in a dramatic increase in customers, including some who had never purchased a teddy bear before! Even a story about a sewing machine company can prove interesting — when it deals with how the machines are adapted for the non-electrified Amish.
A restaurant advertiser found that an article we wrote for one issue worked so well that he paid to have it in EVERY issue. In fact, he put the article in one of our competitor's publications as well!
The cost of an advertorial is the same as the equivalent amount of ad space. We do not charge to write the article for you, and you get final approval on what we say. We will also be happy to post the article for you at no charge on our website. A picture may be worth a thousand words, but an interesting article can be worth increased traffic through your door!
O.K. I'm Sold…What's My Next Step
"I'm ready to advertise!" is what you should say if Edward Blanchette is standing in front of you. If not standing in front of you then call 717.344.0871 or email him at [email protected]. He'll be happy to hear from you.
Decide how many issues your business will be seen by our readers. We hope you will agree that it makes good business sense to be in all seven issues, not just for the exposure, but it costs the least per issue!
Decide what size of ad you may want from the samples shown in this paper. Remember our flexibility? You can change your ad size from issue to issue. For example, be on the Cover in the June issue, an Advertorial in July, a half-page ad in August, and the other issues ¼ page.
Start gathering the info and some good photos we can use in your ad and your listing. If you want to have a coupon in your ad, decide what it's for and when it will expire. Trade Secret: Sometimes we have space to fill in the magazine and if you give us extra photos we may use them and give you even more exposure at your cost!
Here is other information we need to make you look good:
We highlight your events. We will insert any events you may have planned in our Events Section provided we have the information a month in advance.
Are you an attraction or a store that has special hours on Sunday or After 5 p.m.? We have a special section for both of those and want to give you a mention.
If you are open Sundays, we will give you a special notation "(S)" in our index.
Coupons are welcome…tell us what your offer is!
2023 Deadlines
Spring Issue – Ad Deadline Thursday, March 1
June Issue – Ad Deadline Thursday, May 11
July Issue – Ad Deadline Thursday, June 21
August Issue – Ad Deadline Thursday, July 19
September Issue – Ad Deadline Thursday, August 16
October Issue – Ad Deadline Thursday, September 20
Holiday 2022 | Winter 2023 Issue – Ad Deadline Thursday, October 25
So Where in the World Would You Find Amish Country News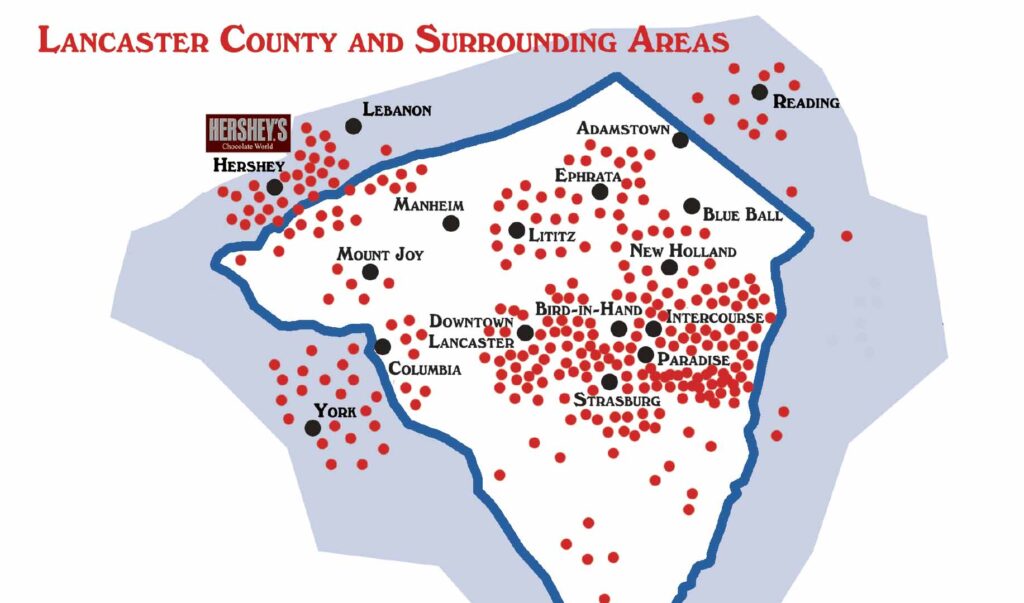 If you are committed to attracting tourists, we are committed to getting your ad in front of them. Our distribution is carefully planned and executed to target visitors coming into the greater Pennsylvania Dutch region. But let's not forget all the "locals" who read our paper (especially the town sections where they live) to see what to do with their guests in the area, or who look for the coupons!
Day Trip Visitors
Lancaster County welcomes millions of visitors annually. Many are here for only a day. ACN's are distributed at points visitors frequent most – restaurants, shops, attractions, and outlets. When they see Amish Country News, they may stay longer, or plan to return!
Overnight Guests
Our lodging properties are critical distribution points, and you'll find Amish Country News in every major hotel, motel, and campground in the area. The information-filled ACN format encourages front desk usage, and many lodging properties hand copies to guests at check-in or place one in their room.
Information Centers
Through memberships and by special arrangements, Amish Country News is prominently displayed at visitors' centers in the greater Lancaster region.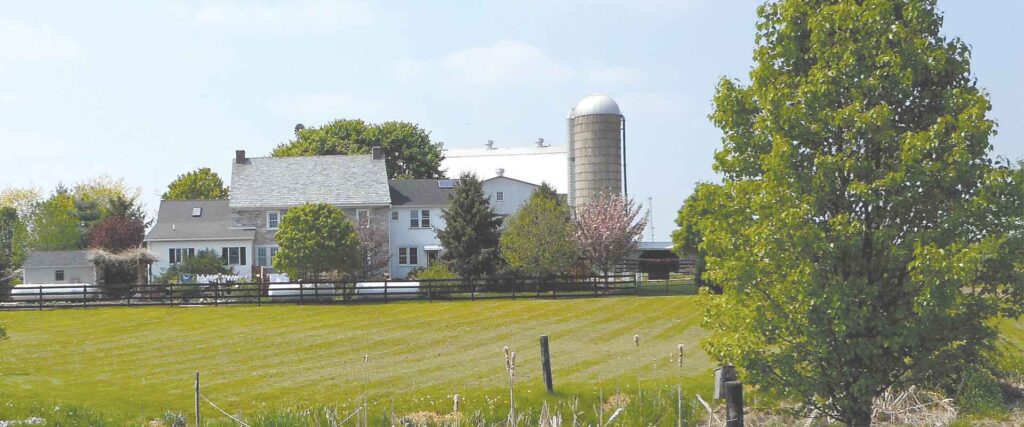 Statewide
In addition to distribution through major hotels, motels, campgrounds and attractions in York, Ephrata, Reading, and Hershey markets, ACN's are distributed at all official State Welcome Centers throughout the Pennsylvania Interstates through Getaways On Display.
Amish Country Tours Passengers
Local guides hosted over 10,000 passengers last year on farmlands tours. Guides give each rider a current issue and encourage them to use it in planning their activities, dining, shopping, and lodging. In our last customer survey, the majority of respondents said they were taking it home and sharing it with their friends…it's contagious!
Our Guarantee – To Have Enough to Last All Month!
Our guaranteed print run of 290,000 copies per year means that we can place the right quantity of Amish Country News at our distribution points in keeping with the tourist traffic through the season. Other publications promise loads of distribution points but take a closer look. If you divided their monthly total amount printed by the number of drop points, you would barely have enough to cover a week of traffic, much less one or two months. We always replenish high-volume locations during each issue month.