Fusion, in the culinary sense, can sometimes be forced, producing some regrettable food trends.  Just look at pineapples on pizza.  However, when two cultures, two foodways, collide in an authentic, organic, natural progression, some of the world's favorite comfort dishes are born.  In Amish Country, we may be witnessing the newest fusion cuisine, with the publishing of celebrity chef Chris Scott's "Amish Soul Food Kitchen" title.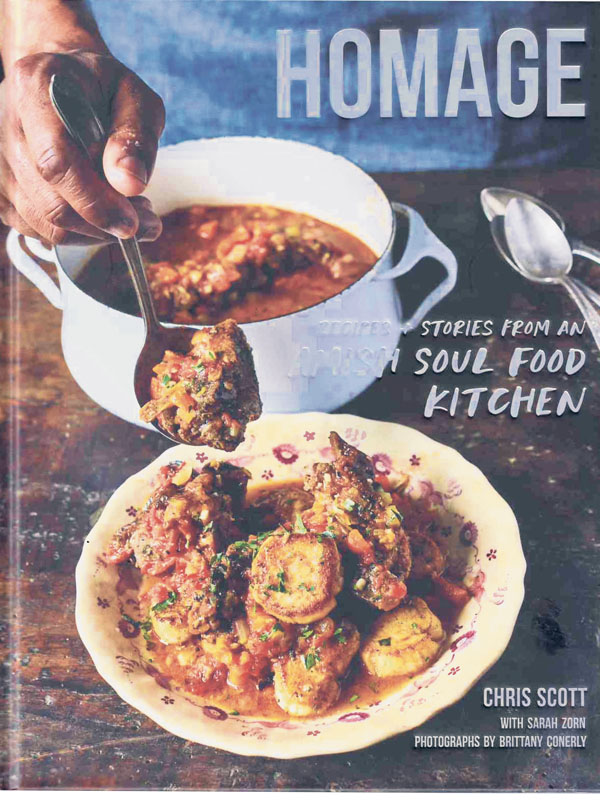 Fans of Bravo TV's "Top Chef" series would recognize Chris Scott from season 15 (2009.)  But he wasn't born in front a television camera, nor was he raised in Philadelphia or New York's hip, restaurant scene (where he has plied his trade before and after attaining fame.)  Rather, he was born in Coatesville PA, the Chester County steel-mill-town on the eastern edge of Lancaster's Amish Country.  (The "Amish settlement" of Lancaster County is not wholly contained within the County and spills out into parts of Chester and other neighboring counties.)
Scott grew up eating a unique fusion of foods, cooked most of the time by his maternal grandmother Pearl, who he simply called "Nana." Her home in Coatesville was where he spent most of his childhood. The "fusion" food? A combination of southern Soul Food, things she knew from her antebellum southern roots, and PA Dutch cooking, which was the culture surrounding her in the area's markets, farm stands, and grocery stores. While he didn't know it at the time, he was being taught "Amish Soul Food" by learning at the apron strings of his beloved grandmother.
"Recipes + Stories from an Amish Soul Food Kitchen" is literally an Homage (the word features on the cover of the book quite prominently) to Scott's Nana, with each recipe coming originally from her hand, though tweaked and nudged one way or the other by Scott's culinary vision.
Take for instance his recipe featured in the book for Crispy Fried Corn on the Cob with Buttermilk Ranch. This is a delightful combining of Amish Country's favorite summertime treat, sweet corn roasted on the cob, with the soulful spices and methods of the south. The dressing for the corn, as noted in the book, is also an absolutely perfect condiment for catfish.
The recipe for Pennsylvania Dutch Tater Tot Casserole is also testament that these recipes don't necessarily have to be fancy, or out-of-touch with the average person. This recipe takes that school-lunch guilty pleasure and gussies it up in an approachable way to create a truly delicious comforting potluck prize.
The book is a very interesting read, because it contains many stories about Scott's upbringing, community, and food memories, coupled with the recipes to bring them to life. Unlike so many food trends and fads, that are eagerly seen in the rearview mirror after an all-to-long moment in the limelight, Amish Soul Food is a fusion and a food trend that I welcome wholeheartedly and would love to see grow and thrive in Lancaster County and beyond.
I think Chef Chris Scott is on to something.  As he wraps up his thoughts in the book, I echo here, "Be Well, Everyone.  Feed One Another.  Love One Another."  
—Clinton Martin