Every day, A time to celebrate!
With my family's and my busy schedule, it's usually difficult to find the time to get together and spend any sense of quality time together, other than holidays, and even then, it can be challenging. I think there are times when others might relate and find this to be true at one point or another, with most families that are always on the go. Let alone making the time for an outing or vacation. Other times in the past, it would be more of a "Staycation". But recently, my family and I had an opportunity to spend some quality time together and take in a show at the Dutch Apple Dinner Theatre.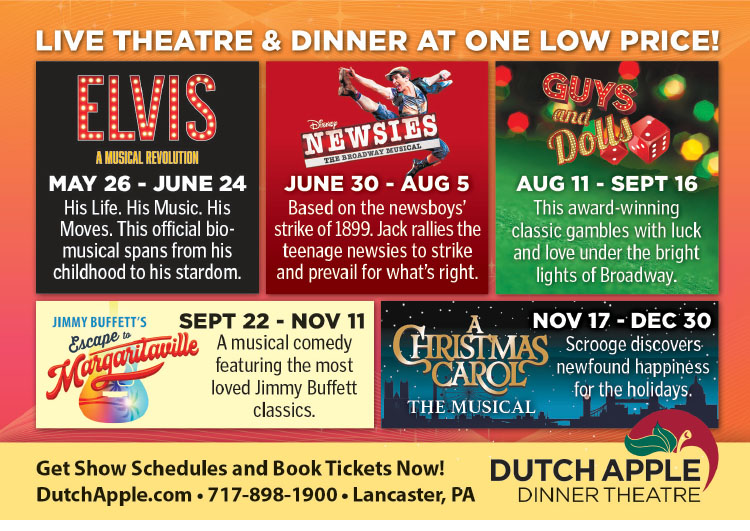 Only minutes away from most lodgings and other attractions in Amish Country, it didn't take long for us to arrive at this welcoming establishment that is the "Dutch Apple" of entertainment. Right from the beginning and up-front, we experienced electricity that was in the air just as others were arriving. With the anticipation of the Dutch Apple Dinner Theatre's opening of their 37th season, featuring Footloose – The Musical, live and on stage. Directed & Choreographed by Amy Marie McCleary.
Now if you saw the original 1984 film adaptation, starring Kevin Bacon, Lori Singer, John Lithgow, and Dianne West, you know how iconic this film had become within the industry and a genuine teen anthem film, to say the least. In some ways, it may have been even deeper than that. So, my expectations were pretty even-keeled, but it was an opportunity to spend quality time with family that pressed us all forward. As we entered, we took our place in line, which moved rather quickly and efficiently. From there, we were escorted directly by a staff that was not only professional, smiling, and attentive to our needs, but also seemed to enjoy the fact that we were all there. Our destination… seating area B16. Almost smack dab in the middle of the seating floor of the theatre. What a great view of everything. Our Waiter/ Usher, "Brian", wasted no time ensuring our party's comfort was taken care of, as we prepared to enjoy a buffet-style meal and a show. Garlic chicken, a seafood casserole, roasted beef, mashed potatoes, and all the trimmings and countless other items lay available for the taking. And that salad and dessert bar! WOW! What an ensemble of goodies for the senses. Needless to say, it was very delicious too!
Then came the start of the show, leading out with a boisterous rendition of the song, "Footloose." The energy of the music and the performers really got you moving in your seat, right from the start! Through every chorus, and every scene, you felt yourself drawn into the ambiance and nostalgia of the era, the music, and the energy of the whole presentation. The lead actors, Jordan Radis (Ren McCormack), Emily Dunn (Ariel Moore), Robert Tully (Rev. Shaw Moore), and Moriel Behar (Vi Moore) were exceptional in the roles they were cast. Personally, I found that Audrey Taylor Ford (Rusty), who had an amazing voice by the way, along with Jamie Goodson (Urleen) and Maddie Garbaty (Wendy Jo) really brought the house down with their contribution of satire, comedic timing, and musical prowess. For me, the whole show was great from start to finish, but these three characters really assisted in putting a delightful bow to wrap things up and bring the show to that finer finishing edge, which is "entertainment". The whole ensemble was a pleasure to experience, that's for sure. The energy of the musical, from start to finish, was a blast for my family to enjoy!
The Dutch Apple Dinner Theatre really knows how to put on a show! So, the next time you want to get away from life's strife, the hustle and bustle, even if for a couple of hours, that's chock full of family fun, then the Dutch Apple Dinner Theatre is definitely the place to go! GPS: 510 Centerville Road, Lancaster, PA 17601. For more information call (717) 898-1900 or visit www.dutchapple.com I hope you enjoy the experience as much as we did. Enjoy!