Amish Country is known as a destination for many reasons, clip-clopping buggies, handmade craftsmanship, fresh from-the-land foods… Ah the food! Lancaster County is known nationwide for delicious, freshly picked, wholesome edibles. Who can resist scratch-made, down-home classics cooked with love like grandma used to make? If you are reading this having already arrived in Amish Country, or you're on your way here, you've picked a wonderful time to experience the area. October is harvest season, with the bounty of the season now mature and ready to pick.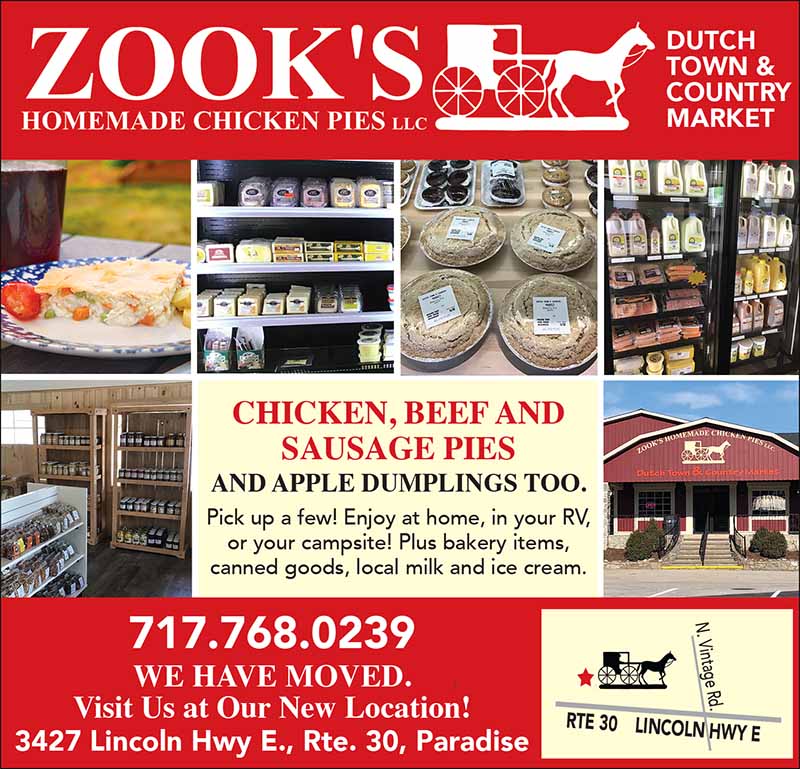 On the Cover – The Art of Cheryl Ann McNulty

Cheryl Ann McNulty's artwork, gracing this month's cover of Amish Country News, ranges from whimsical to realistic, with all of her images sharing a common theme, to inspire and uplift. Her paintings focus mostly on nostalgic images, pastel portraits, Christmas, angels, and Amish children.

Cheryl's love for the Amish culture began in 1973 with a family trip to Lancaster, PA. The peacefulness and the beauty of the landscape and the Amish lifestyle left vivid memories that made her return again and again. Since 1985, Cheryl and her family have visited Lancaster almost every year, and also became good friends with a local Amish family. These many visits and personal experiences have allowed Cheryl to further connect and understand the Amish culture and traditions, allowing her to translate her love of Lancaster through her art.

On the cover this month.

You can visit her Etsy online store at www.etsy.com Visit her blog and learn more about her artwork at www.cherylmcnulty.wordpress.com and The Art Of Cheryl McNulty on Facebook. If you have any questions about her art or you would like to discuss a special order, you can contact her at [email protected]
For many visitors to Lancaster County, the trip is about tasting these tempting dishes, but where to go to get a real taste of Amish Country? Head down just about any back road and you are bound to find a road-side stand selling what's in season. But, for a growing number of ardent fans, the best way to taste the bounty of the PA Dutch region is to tuck into an expertly filled, carefully baked Zook's Homemade Chicken Pie.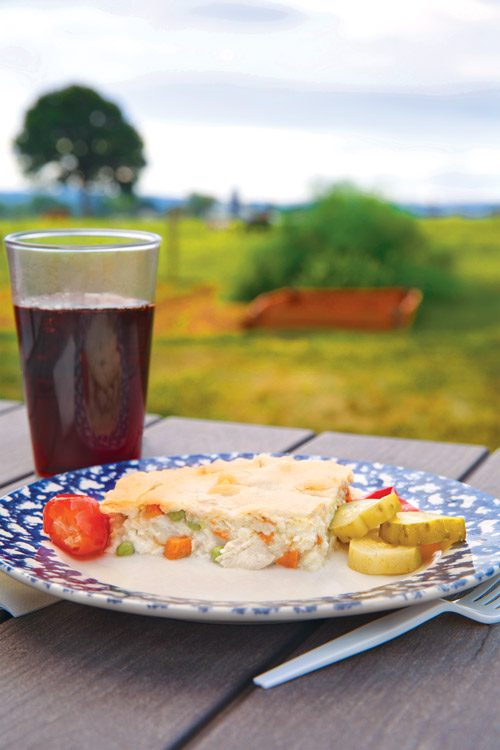 Zook's specializes in homemade chicken pies, hence the name. But, what started out as solely a Chicken Pie bakery has now expanded into sausage pies, beef pies, and even a savory vegetable pie. The bakery also has a line of scrumptious apple dumplings, and various jams, jellies, pickles, noodles, and preserves are available at their newer location with a completely renovated retail section in the new bakery storefront. There's a ton of parking now too!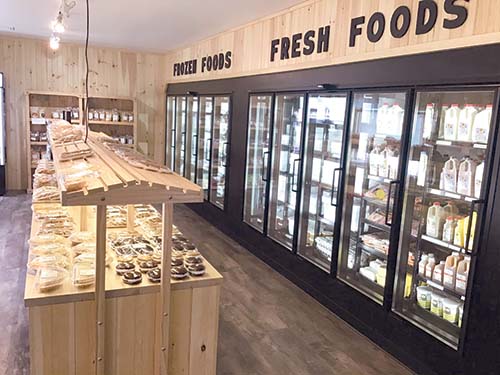 Zook's is not a restaurant, but rather a bakery that mixes masterfully the pies into a fresh or frozen preparation, ready for you to take home, to the campsite, RV, or hotel where you finish them off for a dinner you'll not soon forget. If you are concerned about getting your frozen pies home, Zook's has you covered. They have insulated travel bags with cool packs available for a modest sum that you can stuff your purchases in to keep them properly till you get home.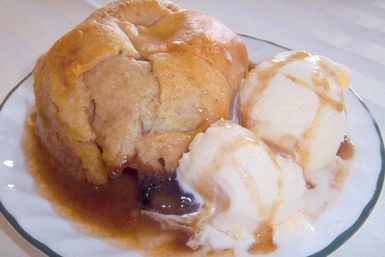 For the most authentic experience, go directly to the bakery, but if you can't get there, Zook's Homemade Chicken Pies are sold at a number of area farmers' markets, independent grocery stores, and unique retailers. Find out where you can get a Zook's pie by calling the bakery at 717.768.0239. You'll have to leave a message, but you can expect a callback. Or visit the bakery in person by pointing your GPS to 3427 Lincoln Highway East, Paradise, PA 17562.
Zook's Homemade Chicken Pies is open daily except for Sunday. No matter how you get your hands on a Zook's Homemade Chicken Pie rest assured this is not your run-of-the-mill, frozen-food section, mass-produced pie at the local big-box grocery chain. These pies are absolutely delicious and will redefine the pot-pie genre for your palate. Bon Appetite!
— Clinton Martin