What started as a hobby in Samuel Riehl Jr's garage, turned into a positively growing and rewarding business. Opening back in April of 2021, at a different location, Samuel recreated this new location for his business and turned it into a warm, inviting, and intriguing workshop & showroom. Now known as Homeland Interiors. Homeland Interiors specializes specifically in custom furniture, ranging from entertainment centers, TV stands, console tables, server tables, desks, kitchen islands, and much more. You can bring in your own designs or Homeland Interiors can design it for you.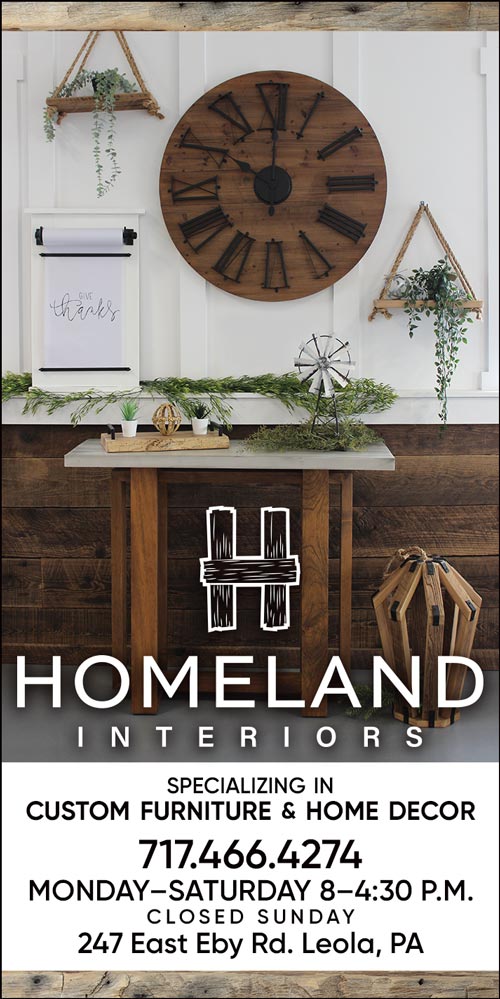 From Fun Hobbies to Small Business Homeland Interiors uses a wide range of natural materials to bring out that added value and beauty in your professionally crafted piece. Utilizing different species of wood, reclaimed and otherwise, such as maple and oak, among others, to bring out the special qualities in your custom piece. They also have lots of sliding barn door options that you can have created for your special project in mind. They also do minor home improvements including, but not limited to, wood accent walls, building and installing custom-made sliding barn doors, in addition to the wide variety of home decor and one-of-a-kind floating shelf options! If you can dream it, they can build it!
So, if you're looking for the quality craftsmanship of a special piece or project for your home or office, look no further than Homeland Interiors; where specializing in custom furniture is right where you want to be, and definitely where you'll want to go.
Whether you're local or just visiting, stop by and browse through their many options, just set your GPS or buggy to head out to 247 East Eby Road located in beautiful Leola Pennsylvania 17540 // (717) 466-4274
– Edward Blanchette