As most of you know, the quality and craftsmanship of Amish goods and products have always been, in my opinion, a step above most other goods available out there on the market today. Not only regarding the past but continues to earn that A1 reputation continually now and for the future. The work ethic and commitment to the quality of the Amish Communities have always stood out to me as a positive go-to for the products they create for their community and patrons. As you drive through some of the winding roads of Amish Country, Central Pennsylvania, you can see that quality everywhere you look, as you pass by the Homes, Farms, and Businesses that dot the countryside.
Somewhere in between Bird-In-Hand and Gordonville Pennsylvania, on one of those winding roads, you will come across Lantz Homestead Quilt Barn. A pristine Amish farm and shop, just off of Musser School Road. The quilt shop is a new addition to the Lantz Homestead, but quilt making on this century-old farm has been an important staple for over thirty years. John & Rachel and their family have handcrafted heirloom quilts for other shops for many years. R-S-L quilts have become a well sought-after emblem of fine quality craftsmanship and artistry. H
In 2020 the Lantz family decided to build their own quilt shop on the farm. Right where their corn crib that housed the food for their cows used to stand. This seemed like the best course of action, as the Lantz family was experiencing how difficult it was to compete with the commercial craft world. The Lantz family wanted to create a store where they could sell local and handmade items directly to their local community and those visitors that traveled in for a visit.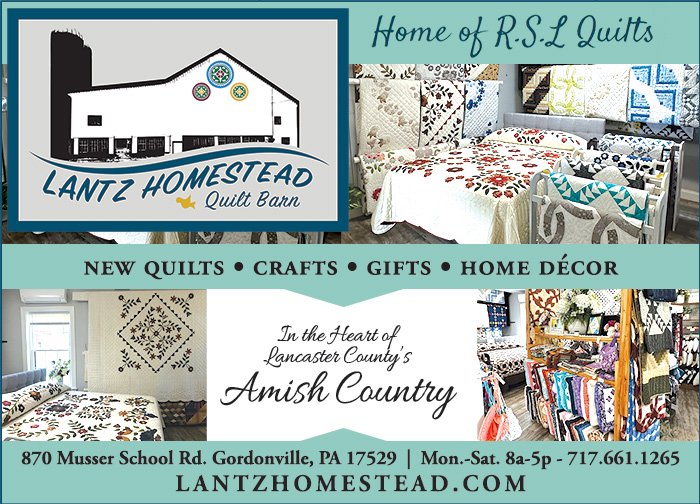 Quilts, gifts, and home decor items are what you will find nestled in this quaint little shop. In addition, they also have a great selection of floor and table lamps that have been converted to be powered by cordless tool batteries (DeWalt, Milwaukee, and Makita). And in 2021, they started carrying the Sonrise Poly Rockers, Gliders, Gliding Ottomans, and Accent Tables, another quality product that is also proudly manufactured in Lancaster County, Pennsylvania.
So, as you pack up the family to have a visit to Amish Country, in Central PA, remember to add this location to your GPS, Lantz Homestead Quilt Barn, 870 Musser School Road, Gordonville, PA 17529 (717) 661-1265
– Edward Blanchette