Of Hooves, Hides, and Leather Dyes at Forest Hill Leather Craft
Do you know what a hoof-pick belt is? No, you probably don't. I certainly didn't, until I visited Forest Hill Leather Craft. If you happen to be a farrier, you'd know what a hoof-pick is. Ike Stoltzfus, owner, operator, family man, and patriarch of Forest Hill Leather Craft showed me this unique item on my most recent visit to this lovely farm boutique workshop.
Simply put, it is a tool that fits in your pocket that folds out to be a handheld nail-care piece for horses' hooves. Mr. Stoltzfus would have these tools on hand at Forest Hill Leather Craft since as an Amish man he's got horses for his daily transportation needs. And hoof care is important for the health of his "daily driver."
But, he noticed that when finely polished, these pieces of "barnware" become handsome "hardware" for a belt. So, he added a "hoof-pick belt" to his immense selection of hand-crafted belts, which now range from traditional to whimsical in nature and design. The hoof-pick unfolds as a hook to fit snugly in one of many loops (offering customization in sizing) on the belt. Wearing one on Thanksgiving Day? Just pull the hoof-pick out and move it back a few loops, and dig into the turkey and stuffing!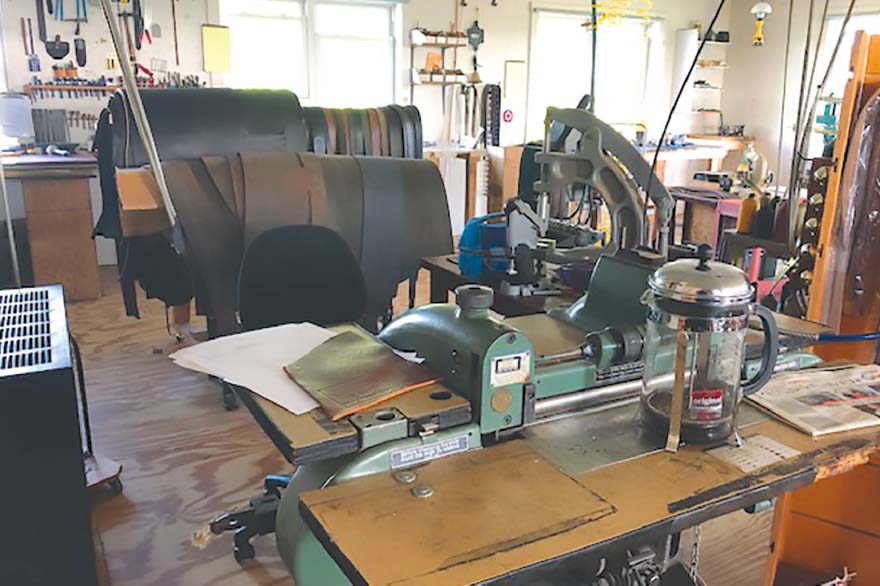 Forest Hill Leather – Custom Leather Products — Information

225 Forest Hill Road • Bird-in-Hand, PA 17505
1.5 mile north of Route 23 / Leola
(717) 656-8758
Hours – Monday-Friday 7am-7pm – Saturday 7am-5pm • CLOSED SUNDAY
Of course, not all his inspiration comes from his equine family members. No matter how young, his family members are all involved in the business, with the tiniest tots able to at least sweep the floor of the shop. The leather shop sits in a renovated half of the barn, so while you shop you often hear the whinnying and nickering of the horses on the other side of the barn, or maybe the crow of a rooster just outside (on my most recent visit I saw the family had a sign proclaiming all-natural, free-range brown eggs for sale.) But the shop is clean, nicely appointed, and spacious, even sporting a mirror to see how the merchandise might look on you before buying.
The main thrust of the business may be belts (in stock ranging from 22 inches to 58 inches) but Forest Hill Leather Craft carries many varieties of leather goods, from purses, wallets, bags, and duffels, to office accessories like planners, briefcases, folios, and organizers, and even a few finely made pet items such as collars and leashes. Custom orders are also welcome. I asked Ike, "Just how big a belt can you make for a custom order?" He said he's made them up to at least 70 inches in length, but essentially, he can make a belt with almost limitless length.
His belts are guaranteed to "last your lifetime" so unlike cheaply mass-produced belts at impersonal big-box retailers (which are often just veneers glued together with very little actual leather involved) an expertly hand-crafted belt from Forest Hill will not need to be replaced every year or two. A cheap belt becomes a bit more expensive when you think how many times it will need to be replaced when compared to a lifelong purchase like a belt from Forest Hill.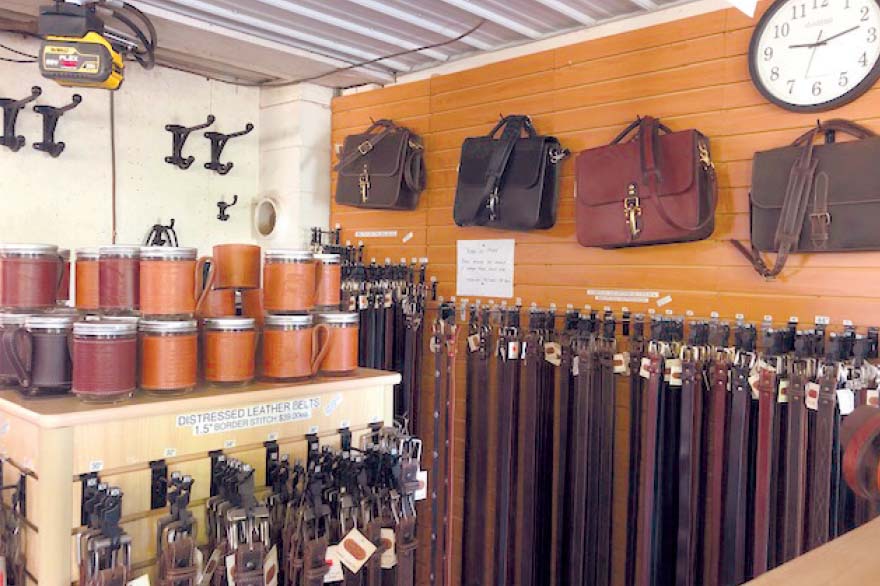 I asked Ike if there were any days in September when his shop would be closed. After all, this is an entirely family-run business, on the farm, and maybe they wouldn't be home certain days. Well, besides Sundays (when all Amish-owned businesses are closed) his shop will be open every day in September, including Labor Day. Call him up for specific hours (717-656-8758). But he mentioned there was a day in August when he did close his shop, a rather rare move on his part. The Amish woman who had taught many of his children at the little one-room school just up the road from his farm (you'll likely pass right by it on your drive to his shop) had gotten married and moved out to neighboring York County. The newlyweds needed to put up a barn on their property, and she had sent a letter to her former student families asking for help. So Ike, and many of the other families chartered a bus (you don't take a buggy from Lancaster to York Counties!) and took a day and went over and put up a "work frolic" to get the building started.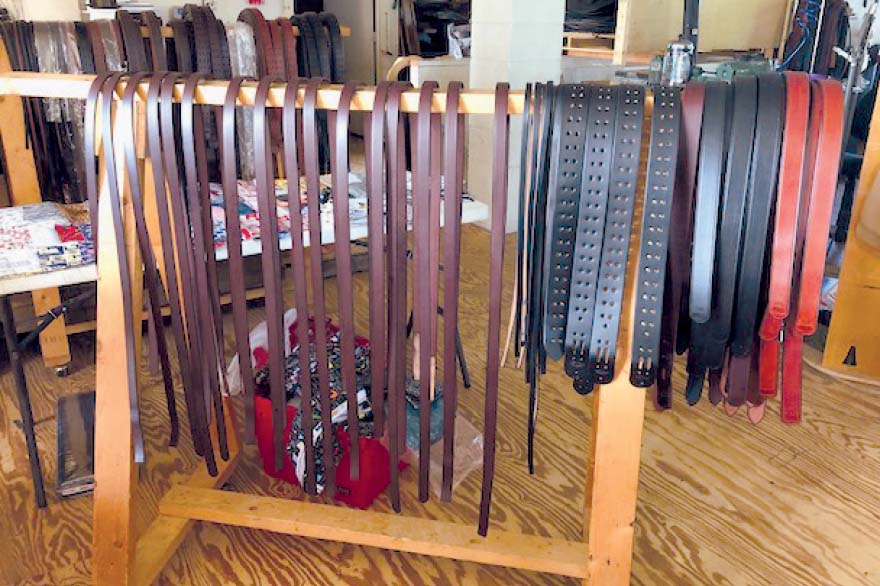 That's the kind of work ethic that you'll see when you look around Forest Hill Leather Craft shop and feel in your hands when you inspect the wares at this off-the-beaten-path "cottage industry." Getting there couldn't be easier, but a word to the wise, his physical address is listed as "Bird-in-Hand" but that is indicative of a quirk of the US Postal system. His property is actually six miles north of the center of Bird-in-Hand, just a short jog north of Route 23 near the town of Leola. The easiest way to get there? Plug 225 Forest Hill Rd., Bird-in-Hand, PA 17505 into your GPS. Heading there without a GPS, take Quarry Rd. north off Route 23 in Leola, and then make a right on Forest Hill Rd., or call (717) 656-8758. The farm is on the right (look for their sign) and is just a short distance after you pass by the Amish one-room school.