For over fifteen years, as of March 2021, Earl Wenger maintained the seed packing machines at Rohrer Seeds on Old Philadelphia Pike, where generations of farmers and gardeners have gotten the supplies and seed they need for Lancaster County's famous farmland. Earl, back then as an eighty–one year old stated, "This machine's as old as I am", as he points to a mechanical apparatus that measures, packs, and seals the packs for small flower and vegetable seed packs. Earl showed us the precise parts used to measure the seeds (in a previous life, this seed–packing machine measured out medicine before capsules were invented).
Earl kept a list of the millions of seed packs filled by the machine during his time at Rohrer Seed. Earl, since then, has retired and handed that baton of excellence and responsibility to Matthew Hofstaedter. But event to this date, since last September 2022, they've packed 450,000 (+/–) packs of seed. There's also a machine to fill larger bags of seed. Only one type of seed is allowed in the packing room at one time to avoid mix–ups, and the machines are always set to add a little extra seed to every pack.
It's March now, and the planting season is starting for Lancaster's many farmers. But for the folks who work at Rohrer Seed, the work is year–round. Rohrer Seed, located near Smoketown Airport, between Bird–In–Hand and Lancaster City, was founded in 1919. The Rohrer family has run the business ever since then. "The business started more with chemicals and agri products, with only 10% being lawn and garden. Now I'd say we're about 90% lawn and garden, and 10% agri products, "explained Rob Fisher, COO of Rohrer Seed.
Rohrer provides seed for farms, gardens, lawns, and wildlife. Rohrer Seeds are sold in more than 600 stores, including the four Good's Store locations located in East Earl, Ephrata, Quarryville, and Schaefferstown. You can see their ad on page 2 of this issue of Amish Country News.
Rohrer Seeds employ about fifty people, including seed biologists. We have trial gardens behind or warehouse. Before we sell anything, we grow it, and we test it ourselves. A lot of testing is tasting it and making sure we like the taste and how it looks. "All of our employees love to garden, "says Rob. "So, we tell them that if they need a break, they can go out and work in the garden."
"Our seeds are sourced from a bunch of different areas. Some are from the West Coast. Some are from the Northeast. Some of our bulbs come from Amsterdam". "Our potatoes are grown in Maine. We're at the end of our potato growing season now, but we go through almost nine full truckloads (+/–) of potatoes". "Approximately three years ago, we started dealing with industrial hemp seed, that comes from Ukraine. The cultivars that we have are very special when it comes to fiber. Hemp is like a natural rebar, and people make hempcrete to build houses. In Europe, as of 2021, they were starting to put t in tires". To produce more industrial hemp seed, Rohrer Seed had planned to contract with farmers in Peru.
Another huge part of their business is grass seed. "Most of our grass seed comes from Oregon by rail car. Oregon has the best growing conditions in the country. Last year, we got about 20–truckloads of grass seed. A truckload is about 40,000 pounds, so that's about 800,000 lbs. of grass. "We do our mixes. If landscapers want special mixes, we can do that for them, "says Rob. "What's fun for us is that we get to choose what we like and how we want it. Someone else grows it in the best-growing conditions for this area. Our philosophy has always been to get the highest quality seed you can get," Rob tells us.
"The single most popular seed packet we grow is the Detroit Red Beet. Anywhere else in the country, it won't be that way. But in Lancaster County, people love their beets."
Since Covid–19 began, "Our online sales have been up 1,500% (+/–) over the last couple of years," says Rob. "People finally have more time to do the gardening they always wanted to do." In the shipping room, we meet Jim Gamber (pictured above and right) who runs the shipping department. Jim has worked at the business since 1979. But his introduction to Rohrer Seeds came years earlier when he was a child growing up in Ethiopia. "My parents were missionaries with Eastern Mennonite Missions. Every year, Rohrer Seeds donated seeds to the mission families. They would write a wishlist, and Rohrer's would give the mission what they could." "We could grow food year–around in Ethiopia. In the dry season, we had to haul water from a spring. During the wet season, it would rain daily, and we saw rainbows almost every day."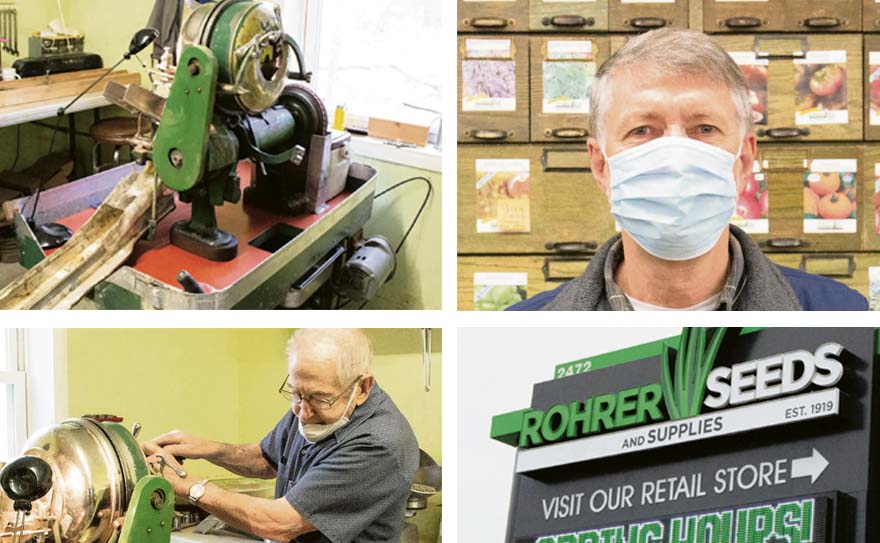 Jim was one of four children, and the mission was located far away from any supermarket. "We could buy some food, like eggs, from the locals, but mostly, we ate what we raised in the garden. Almost every type of seed we got from Rohrer Seeds did well, except we couldn't grow sweet corn. So, we ate young field corn instead." Instead of planting the seeds in rows, Jim's father planted the seeds in a 2 x 2' plot, then carefully dug out and replanted anything that grew. "We didn't thin the crops," says Jim. "Nowadays, we buy a pack of seeds for 99 cents and pull a lot of them out. But when seeds are scarce, you don't do that." As a young man, Jim was back in America, living in Lancaster and looking for a job. To his surprise, he discovered Rohrer Seeds was looking for a worker. "I thought, I know that name! I hadn't known where Rohrer Seeds was located." He applied for the job and now has been working at Rohrer Seeds for over forty years. "I love being able to help people grow healthy food."
— Originally written by Susan Burkholder
— Revised & Updated by Ed Blanchette