Locally Made Food Shop & The Quilt Shop at Miller's
Taste Lancaster County at the Locally Made Food Shop
---
Locally Made Food Shop is your one–stop–shop for the best of what Lancaster County has to offer. Tasty, made–from–scratch baked goods come from neighbor and sister business, Miller's Bakery. The same bakery that supplies Miller's Smorgasbord with its amazing freshly baked breads and desserts. You will find Miller's World–Famous Chocolate Pecan Pie, sticky buns, and shoofly pie as well as fresh raisin bread, rolls, and more. Plus, locally made jams and jellies, oils, vinegars, pickled vegetables, dressings, mustards, and sauces will allow you to bring home a taste of Lancaster that can be added to many meals to come. You will, also, find Lancaster County made honey, coffee, jerky, popcorn, fudge, pretzels and much more.
---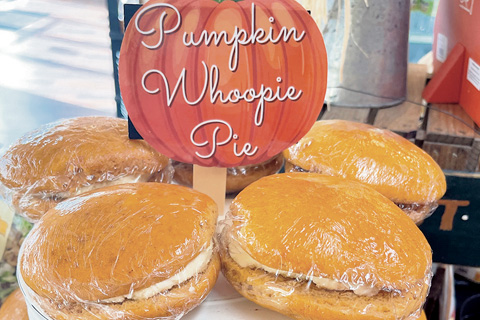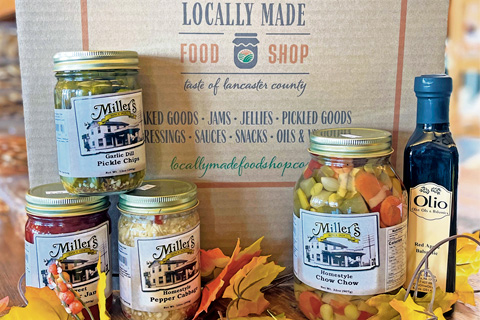 Route 30 Traffic Jam is a staff favorite. It is a jam that includes peaches, strawberries, cherries, red raspberries, and cranberries. Other staff favorites include: whoopie pies, garlic balsamic, Christmas Jam, and the cheesy garlic dressing. Manager, Jill Jones, states "I am focused on providing an amazing experience by offering unique, local items that folks can't find on their own that are all made here in Lancaster County."
Locally Made Food Shop & The Quilt Shop at Miller's
Lancaster County foods make great gifts so many folks stock up for holiday gift giving. To make gift giving even easier, Locally Made created their new Taste of Lancaster County Gift Boxes. There are over 7 uniquely themed boxes to choose from. Current themes include chocolate, jam and pancake mix, sweet & salty, hot sauces and oils, spices, pickled items, and pretzels. These boxes make gift buying for friends, family, business, and employee appreciation simple. The boxes can be shipped, delivered locally, or picked up from the store.
You can even have the friendly staff help you create your own special gift boxes with your favorites. There is also USA kitchenware and gift ware available which can complement the food items you selected and give your gift a special touch. The store is open 7 days a week and is located right next to Miller's Smorgasbord.
---
The Quilt Shop at Miller's
The Quilt Shop at Miller's has a huge selection of local made quilted items from wall hangings to handstitched quilts, quillows to table runners. All are handcrafted by local Amish and Mennonite artisans. The Quilt Shop is unique in that all its quilts are handstitched here in Lancaster County. This 3,500 square foot showroom offers a huge selection of quilts. This is the go–to store in Lancaster County due to its quality, selection, value, and customer service.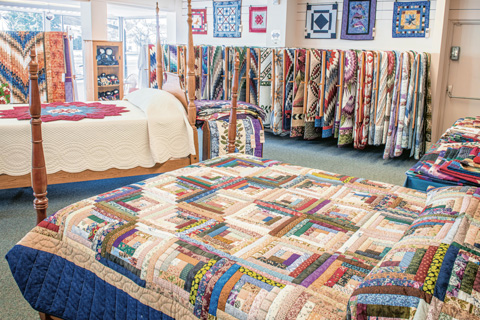 Their expert staff will help you find the perfect quilt for your home and demonstrate the intricacies of stitching, colors, and pattern. They will also be able to help provide guidance on how to best care for these beautiful works of art.
Two key tips from the staff at the Quilt Shop for those coming to Lancaster County to shop for a handstitched quilt:
Measure your bed and make sure to include the length you want it to drop down the sides and bottom of the bed as handmade quilts are not standard sizes as the pattern will determine the size.
Bring along the colors that you are looking to coordinate with.
Understanding the different types of quilts is also helpful when shopping. Quilts fall into three categories: pieced, applique and whole cloth. Pieced quilts are made by cutting pieces of different fabrics to be sewn together to make the design. Common designs include Log Cabin, Double Wedding Ring and 9 Patch. Applique quilts are cut out and hand sewn to a larger piece of fabric, or "applied" to the fabric. The designs are usually floral, possibly with birds or hearts and include Spring Basket, Heart Bouquet, and Heart of Roses. Whole cloth quilts – this quilt is one "whole" piece of fabric that is cut to the bed's size and requires a master hand quilter. It is intricately hand quilted with feathers, cables, diamonds, birds, and hearts patterns, and include Heirloom, Hershey, and Pineapple designs. The experts at The Quilt Shop can work with you to find the perfect quilt for your home.
Although known for the beauty and quality of the quilts the store sells, there are many other quilted and handmade items available. A favorite is the quillow which is a quilted blanket that folds up in a pillow. It looks amazing on your sofa year–round and can be pulled out to snuggle under during the colder months. Other favorites include table runners, throw pillows, wall hangings, spice mats, placemats, and aprons. For the children, we have cloth books, stuffed puppies and cats, and a variety of crib quilts. Plus, there are wooden crafts that include wooden boxes and quilt stands, which are also made by local woodworkers. These are just a few of the items that the store carries so come in or go online to check out all the possibilities.
The Quilt Shop at Miller's will be celebrating its 25th anniversary in June. Every person that comes to the store in June will have the chance to enter their name in a drawing to win a quillow made by local quilters. On each Wednesday in June from 11 AM – 1 PM, The Quilt Shop will have a local artisan doing live quilting demonstrations. On June 21st, the store will host an anniversary celebration with live demonstrations from 11 AM – 1 PM. Also, the first 50 customers that day will receive a special gift. The store is excited to introduce folks to the beauty of these amazing works of art.
The Quilt Shop at Miller's is next to Miller's Smorgasbord at 2811 Lincoln Highway East (Route 30), Ronks, PA 17572.