When you say "Miller's" in Lancaster County, almost everyone thinks of "Smorgasbord!" Miller's Smorgasbord is indeed well-loved and deservedly famous.  People have been eating themselves "full" at this same location since 1929 (chicken and waffles were on the menu then, and still are now!)  

The property today, however, features other retail pursuits in addition to the buffet, such as a specialty food store, a winery, a clothing and apparel store, and perhaps most visibly, a Quilt Shop.  The Quilt Shop at Miller's carries hundreds of handmade quilts, quillows, wall hangings, and exquisite gift items from Amish, Mennonite, and other local artisans.  The store is a well-lit, 3,500-square-foot showroom, and the staff selects only the finest examples of craftsmanship to grace the shelves.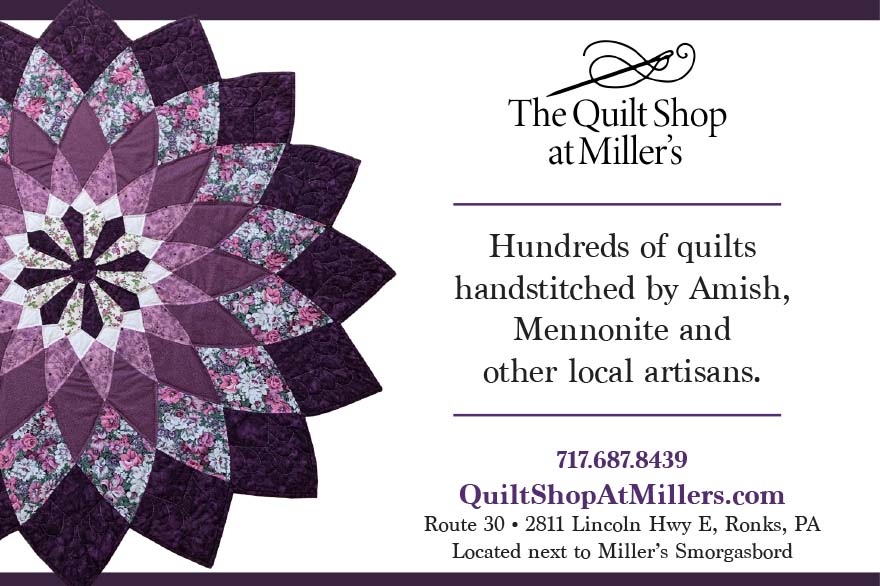 Some of the quilts on sale are very special. Miller's has for many years invited local quilter's guilds to consign their handmade wares at the store, with 100% of the proceeds when they are sold going back to the guild for use in aiding the less fortunate, or those in need. Many of the guilds use the funds to purchase supplies to make quilted items for donation to local hospitals, shelters, etc.
We're thrilled t be showcasing the beautiful work of the Highland Quilters of the Highland Presbyterian Church. A local quilting group formed in 2006, they have worked their magic with quilting projects to support those in need locally and internationally.
Their quilts have gone around the world with Mission Projects in Peru, Argentina, Puerto Rico, and El Salvador. Quilts have gone with the Church's Disaster Team to provide comfort to victims of Hurricanes Hugo, Andrew, Sandy, and Katrina. Locally, the Veterans Hospice Program, the Stork Nest, and Nurse Partnership Program for first-time Moms have received quilts to support their work. Money raised at craft shows has funded scholarships for girls in Ghana and has been used to buy sewing machines for women in poor counties.
We're happy to be selling their beautiful quilted pieces made by Fran Stefany, Phyllis Thompson, and other talented members of the guild this month. All of their sales will be returned to the group and used to make more quilts that will be donated to those in need.
Being a part of this effort is easy.  Stop in at Miller's Quilt Shop and view the beautiful merchandise, and inquire if any guilds have a quilt on display for charity, and consider contributing, through buying, their beautiful, quilted pieces.  Miller's Quilt Shop is located at 2811 Lincoln Highway East, Ronks PA 17572.  Call 717-687-8439 for hours.  Visit online at www.quiltshopatmillers.com